Posted:
August 14th, 2013 |
Author:
ctbideas
|
Filed under:
ATW Planning
|
No Comments »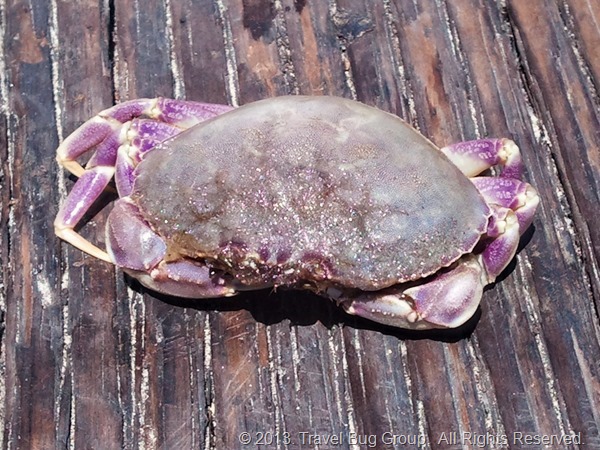 Protection as hard as a crab's shell. 
One of the first things I wrote down on my to-do list when we started to plan out the trip was "get travel insurance".  Travel Insurance is an insurance product that covers travel expenses if certain calamities  related to travelling happen: losing a laptop on a bus, missing a connecting flight, cancelling a hotel reservation due to sickness, evacuation if a dangerous situation crops up for tourists, etc.
Getting a quote
In my search for the best travel insurance, I found myself often stymied by the initial step of trying to get a quote.  Company after company asked me questions I had no answers to, refusing to let me proceed before I provided them with what they believed to be mandatory information.  The biggest issue I kept running into was the flexible nature of our trip.
Destination: There is usually only one country selection allowed. They specify to choose the country you are planning on spending the longest time in.  However, though I had a general list of countries we were planning to go to, our list is rather more suggestions in nature than anything set in stone.  So, I had no idea if our list of countries would change and how long we were going to be spending in any one country.
Departure Date: When I was researching travel insurance, I didn't have a departure date initially, though I knew that it would be vaguely at the end of August.  It actually wasn't until a couple weeks ago that we settled on a departure date and only because airplane tickets were cheaper and more convenient.
Return Date: Again, as with the departure date, our return date is rather up in the air and will probably remain up in the air until we actually do decide to come home again.
Total Trip Cost:  As we're not paying for anything aside from the first few legs of our trip and our initial lodging cost, we can't even begin to calculate our total trip cost.  We have a general budget, but, unlike wedding planning, may be harder to stick to because we have no idea what to expect in terms of our needs.
Trip Deposit Date:  Since this trip is self-planned, we have no deposits, per se.  However, a lot of the questionnaires I encountered refused the zero number.
Birthdates: Ah, finally pieces of information I know and have little chance of changing!
Citizenship Countries:  Another easy question to answer.
I had to abandon a number of insurance company options because I couldn't, truthfully, answer many of their questions, and they evidently believed our plans not settled enough to calculate a quote.
What length of time is covered?

Another wall I found myself smacking into was that most travel insurance products only cover up to 31 days, though some did go up to 6 months.  Not ideal for a potentially year-long trip.  I looked into gap-year insurance since they cover a whole year.  However, most of those insurance products specify that one must start out from a certain country (UK, Australia, etc.).  As the US doesn't have a strong tradition in gap years, there weren't many quality gap-year insurance products for those wanting to start out in the US that I could uncover.  Also, I found ones lasting for a whole year, but each trip had to be 31 days or less, which, again, was not quite what we needed.
Are certain activities covered?
There are certain activities deemed "Adventure Sports Activities" or similar, not covered under certain insurance products.  So, if you're planning on doing any crazy adventures, it's good to get travel insurance that covers those items or pay extra to add riders to the insurance policy.  Which leads me to the next item.
Be careful to read all the fine-print carefully
When choosing insurance products, read ALL the fine-print with a fine-toothed comb.  What exactly counts or doesn't count as an "adventure sport"?  How does one go about filing a claim?  Are lost items covered vs. stolen items?  What exactly is their definition of "pre-existing condition"?  Can you extend your insurance if you somehow end up travelling for longer than expected?  You don't want any nasty surprises if something does happen and you find out it isn't covered in the first place.  It took me a really long time to read everything (I may have fallen asleep a few times while doing so), but it actually makes it easier to compare products and I'm fairly confident in my purchase.
Credit Cards
Another option we considered was just going off on the limited travel insurance provided by our credit cards.  Why not?  They were technically free and we didn't think we'd need that much coverage considering most of our possessions aren't worth much monetarily and we're not staying anywhere super fancy.  However, insurance products are the sort of things one hopes to never use, but if something did crop up, we would be glad to have it.  Being rather paranoid, Rick more so after keeping an eye on the latest news, we decided we needed a beefier insurance product than just the protection provided by our credit cards.
Conclusion
In the end, we decided to go with World Nomads.  Not only do they cover a whole year for a decent price, the country of departure AND destinations could be as flexible as we needed. Plus, they didn't require any specifics on price or deposits.  I discovered the company through Nomadic Matt, who writes a great blog about wandering the world.  His post on travel insurance gives a LOT more detailed information on travel insurance if you're interested.  Also, if you're looking into travel insurance, a great place to start is Squaremouth, where you can find and compare different insurance products to fit your needs.  So, at least we now have piece of mind if we find ourselves in the middle of a military coup.
**Please note: Some of the links in this blog post are affiliate links.  I always make sure the companies I recommend are ones I've used and liked myself.  I don't mind if you'd rather avoid the links.  Just find the companies on Google for the same great product.
---