Posted:
October 15th, 2013 |
Author:
ctbideas
|
Filed under:
ATW Updates
|
4 Comments »
Through our whole stay in Chiang Mai, I kept seeing advertisements on cooking schools.  I like cooking but thought nothing of it.  However, I kept hearing about how fun these classes were,  and I started thinking about how cool it would be to cook some yummy Thai food back at home.   We signed up last minute at the cooking school right next to our guesthouse, Smart Cook.
Our teacher was super friendly and enthusiastic.  We first went to the nearby market where he showed us the different vegetables and spices we were going to use in our dishes.  We sniffed and examined everything, then had a break to explore the market ourselves. After an interesting cultural exchange regarding tilapia fish, Rick couldn't resist the lure of fresh inexpensive durian and scarfed some down before we returned to the school to get down to cooking.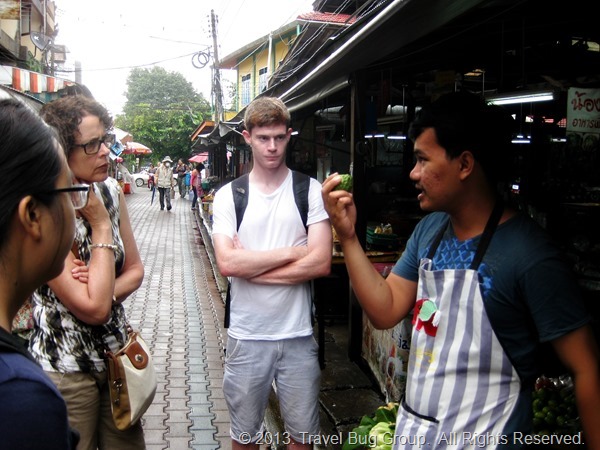 We cooked 4 courses. We could choose one out of two dishes for each course, so Rick and I split it up so we could cover every dish.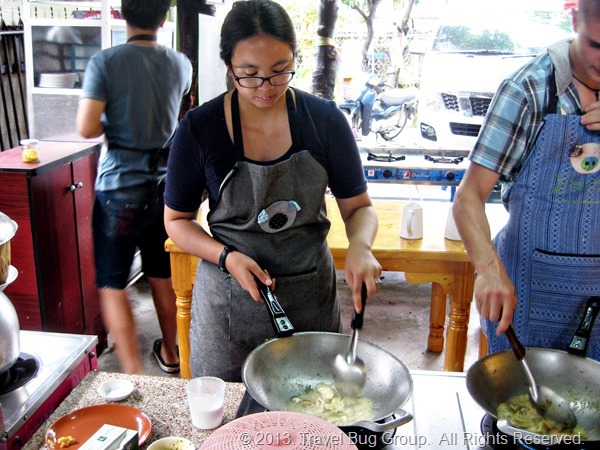 My dishes:
Hot and sour prawn soup
Pad Thai
Green curry
Spring rolls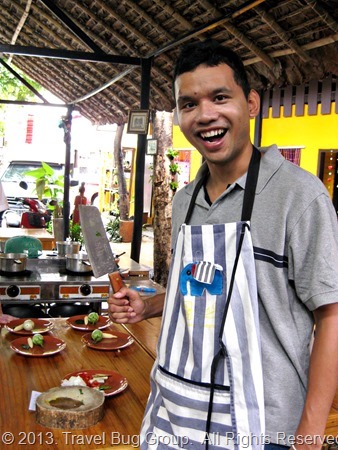 Rick's dishes:
Chicken in coconut milk soup
Fried chicken with cashew nuts
Red curry
Mango with sticky rice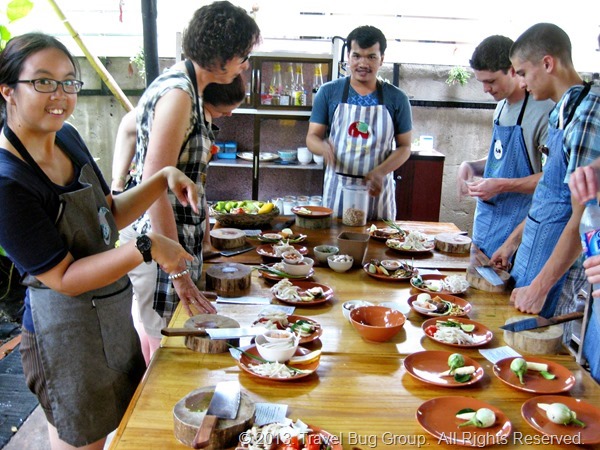 We sliced and measured and (tried) following directions. We actually spent a good amount of time asking each other, "What?" "Add how much shrimp paste?" "When do we add the water?" "Does this even look right?" Our teacher was super patient and upbeat with us, even when the wok next to me started burning and I inhaled a little too much smoke.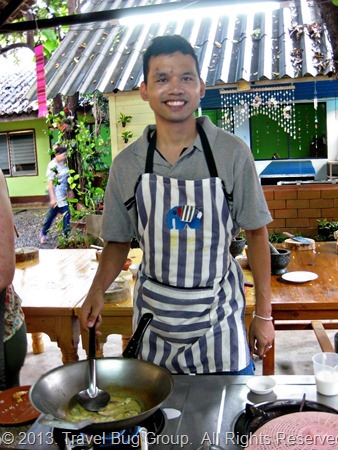 After the first two dishes, then after the last two, we sat together to tentatively chow down, murmuring with surprise when the food we attempted actually tasted legit. We left, heading toward the bus station, with a new confidence in our culinary abilities and a personal cookbook to take home.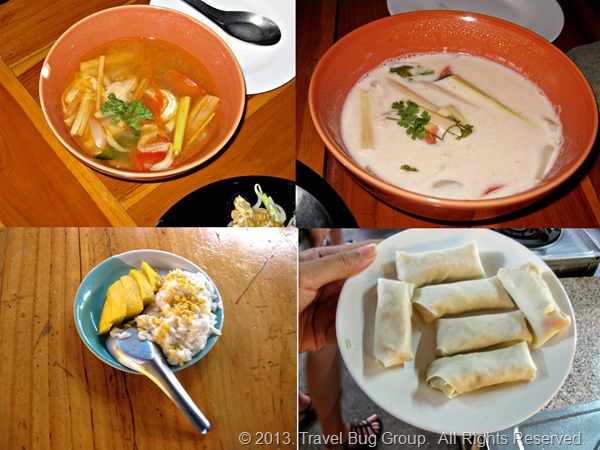 Clockwise from upper left: Hot and sour prawn soup, chicken in coconut milk soup, spring rolls (prior to frying), mango with sticky rice. 
Information:
Smart Cook
Website (the Trip Advisor site, since they don't seem to have a website right now).  The email is smartcookthailand@yahoo.com
Transportation: Smart Cook will pick up from any guesthouse and hotel though we just walked
Price: 700 baht per person for the afternoon (half-day) session which is the one we did.  Full-days are 900 baht per person.  They only take cash at this time.
---