Posted:
December 20th, 2013 |
Author:
ctbideas
|
Filed under:
ATW Updates
|
No Comments »
On this day, we went on a marathon of ancient sites, hitting four cities in rapid succession.  Though it seems like it would be overwhelming, there's actually not much left of these four sites, so it became a matter of driving, then hopping off for a half-hour to an hour look before climbing back into the van. 
Thyatira
18 "To the angel of the church in Thyatira write:
These are the words of the Son of God, whose eyes are like blazing fire and whose feet are like burnished bronze. 19 I know your deeds, your love and faith, your service and perseverance, and that you are now doing more than you did at first.
20 Nevertheless, I have this against you: You tolerate that woman Jezebel, who calls herself a prophet. By her teaching she misleads my servants into sexual immorality and the eating of food sacrificed to idols. 21 I have given her time to repent of her immorality, but she is unwilling. 22 So I will cast her on a bed of suffering, and I will make those who commit adultery with her suffer intensely, unless they repent of her ways. 23 I will strike her children dead. Then all the churches will know that I am he who searches hearts and minds, and I will repay each of you according to your deeds.
24 Now I say to the rest of you in Thyatira, to you who do not hold to her teaching and have not learned Satan's so-called deep secrets, 'I will not impose any other burden on you, 25 except to hold on to what you have until I come.' 26 To the one who is victorious and does my will to the end, I will give authority over the nations— 27 that one 'will rule them with an iron scepter and will dash them to pieces like pottery'[b]—just as I have received authority from my Father. 28 I will also give that one the morning star. 29 Whoever has ears, let them hear what the Spirit says to the churches.
~Revelation 2:18-29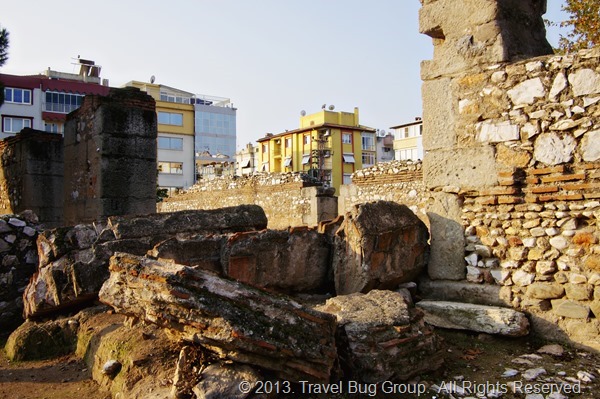 Located smack-dab in the middle of a residential area of the modern city of Akhisar, the ruins of Thyatira are still a mess of scattered artifacts. It's difficult for them to expand the dig too much since residential apartments rise up all around the area, satellite dishes vying for space.  However, you can still see the outlines of walls and even an old baptism font. 
Sardis
"To the angel[a] of the church in Sardis write:
These are the words of him who holds the seven spirits[b] of God and the seven stars. I know your deeds; you have a reputation of being alive, but you are dead. 2 Wake up! Strengthen what remains and is about to die, for I have found your deeds unfinished in the sight of my God. 3 Remember, therefore, what you have received and heard; hold it fast, and repent. But if you do not wake up, I will come like a thief, and you will not know at what time I will come to you.
4 Yet you have a few people in Sardis who have not soiled their clothes. They will walk with me, dressed in white, for they are worthy. 5 The one who is victorious will, like them, be dressed in white. I will never blot out the name of that person from the book of life, but will acknowledge that name before my Father and his angels. 6 Whoever has ears, let them hear what the Spirit says to the churches.
~Revelation 3:1-6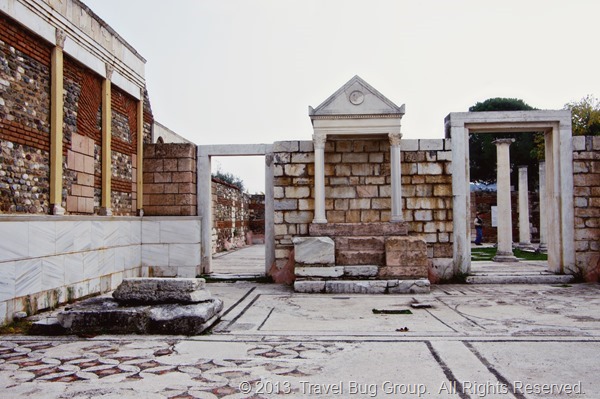 Sardis has the remains of a beautiful Jewish synagogue.  The floor is still inlaid with the original mosaics.  The most intriguing is a stone beside one of the pillars.  Carved into it is one of the secret symbols Christians used to communicate that there was a secret Christian community there: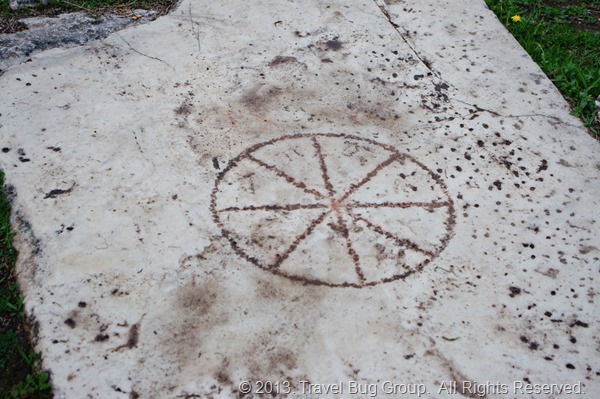 Nearby lie a series of shop-fronts dating to the Byzantine era.  Some of the inscriptions with the names of the shopkeepers have survived to the present.  Jacob's restaurant here.  A fabric dying shop there.  It's easy to squint and almost see the bustling market that must have existed where we stood.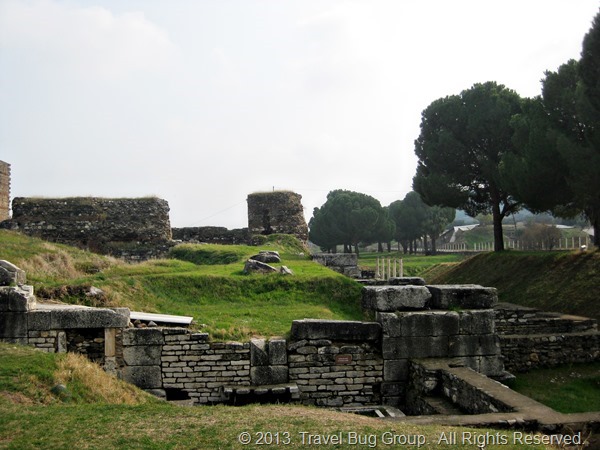 Philadelphia

7 "To the angel of the church in Philadelphia write:
These are the words of him who is holy and true, who holds the key of David. What he opens no one can shut, and what he shuts no one can open. 8 I know your deeds. See, I have placed before you an open door that no one can shut. I know that you have little strength, yet you have kept my word and have not denied my name. 9 I will make those who are of the synagogue of Satan, who claim to be Jews though they are not, but are liars—I will make them come and fall down at your feet and acknowledge that I have loved you. 10 Since you have kept my command to endure patiently, I will also keep you from the hour of trial that is going to come on the whole world to test the inhabitants of the earth.
11 I am coming soon. Hold on to what you have, so that no one will take your crown. 12 The one who is victorious I will make a pillar in the temple of my God. Never again will they leave it. I will write on them the name of my God and the name of the city of my God, the new Jerusalem, which is coming down out of heaven from my God; and I will also write on them my new name. 13 Whoever has ears, let them hear what the Spirit says to the churches.
~Revelation 3:7-13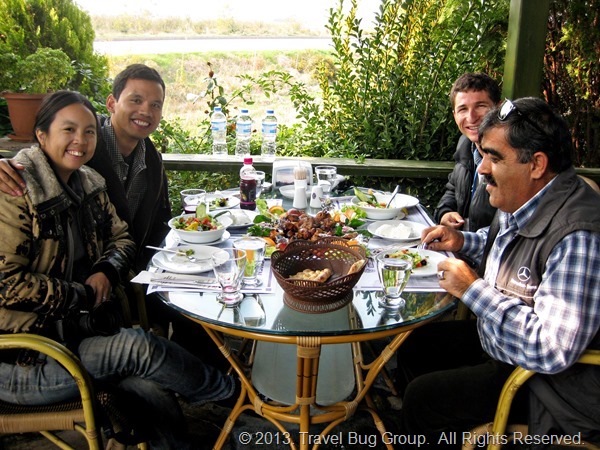 After a yummy lunch of kebabs (Rick's foodie heaven), we drove over to the ancient site of Philadelphia contained within the city of Alasehir.  There's actually nothing here we can see that dates back to the early church.  All we were able to visit was the ruins of the Church of St. John, built much later. Beautiful roses in shades of red and yellow bloom amidst the crumbling red-stone towers, and birds nest up top, giving the small place a peaceful feeling, a small oasis in the middle of a bustling town.  I would've loved spending time here with a good book, spending hours reading perched on the scattered stone benches.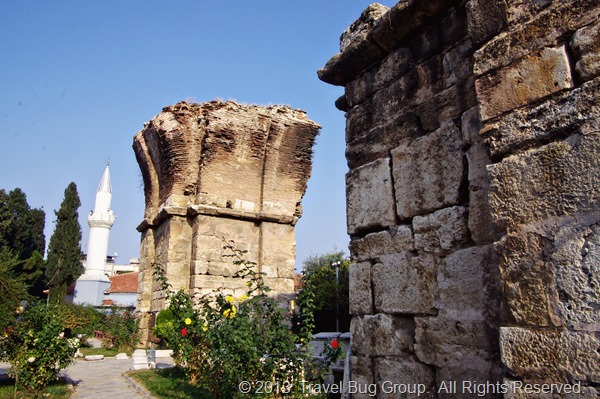 Laodicea
14 "To the angel of the church in Laodicea write:
These are the words of the Amen, the faithful and true witness, the ruler of God's creation. 15 I know your deeds, that you are neither cold nor hot. I wish you were either one or the other! 16 So, because you are lukewarm—neither hot nor cold—I am about to spit you out of my mouth. 17 You say, 'I am rich; I have acquired wealth and do not need a thing.' But you do not realize that you are wretched, pitiful, poor, blind and naked. 18 I counsel you to buy from me gold refined in the fire, so you can become rich; and white clothes to wear, so you can cover your shameful nakedness; and salve to put on your eyes, so you can see.
19 Those whom I love I rebuke and discipline. So be earnest and repent. 20 Here I am! I stand at the door and knock. If anyone hears my voice and opens the door, I will come in and eat with that person, and they with me. 21 To the one who is victorious, I will give the right to sit with me on my throne, just as I was victorious and sat down with my Father on his throne. 22 Whoever has ears, let them hear what the Spirit says to the churches."
~Revelation 3:14-22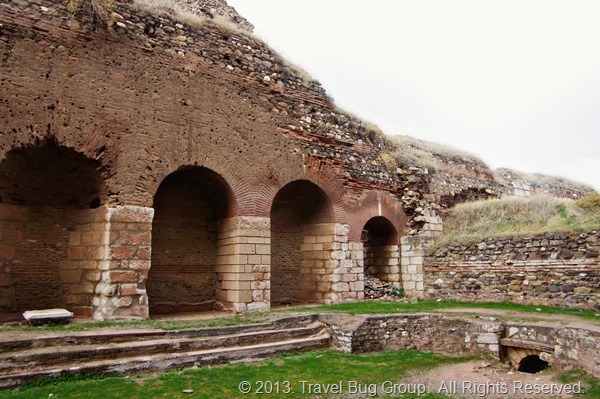 Named in honor of the founder's wife, Laodicea is known for its hot springs possibly prompting the "lukewarm" comment. We saw the ruins of an ancient bathhouse heated by those hot springs.  As we walked along a main street, pillars lining both sides, we could still see the ruts made by chariots in the stone beneath our feet.  That night, we took advantage of the hot springs and enjoyed a soak in a thermal pool at our hotel. 
---