Posted:
December 23rd, 2013 |
Author:
ctbideas
|
Filed under:
ATW Updates
|
No Comments »
We started bright and early this day.  We had a lot of sights to see and little natural daylight in the late autumn. 
Pamukkale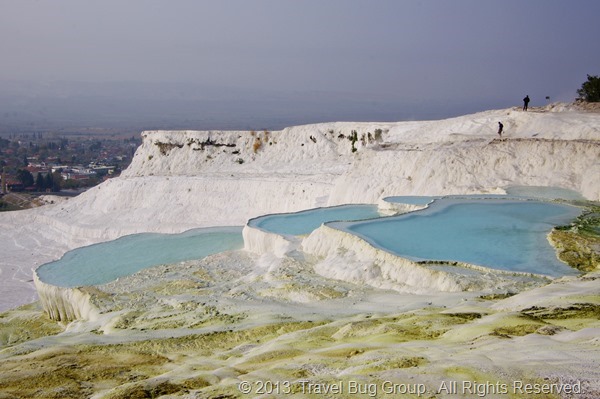 Over an innumerable amount of years, calcium deposits left behind from the flowing water have created an otherworldly landscape of puffy white walls and dreamy terraces.  While it looks soft, to walk on it can be rather uncomfortable, the tender skin of my feet protesting the tiny ridges everywhere, rough as sandpaper.  The water, lukewarm, runs one way half the year, and then is redirected the other half in order to keep both sides of the cliffs a beautiful white instead of a withering green-black color. A true natural wonder.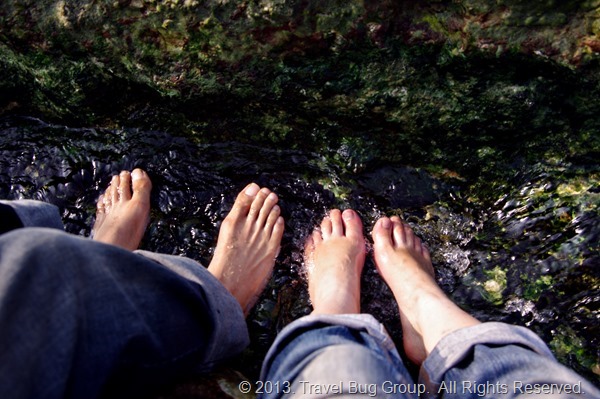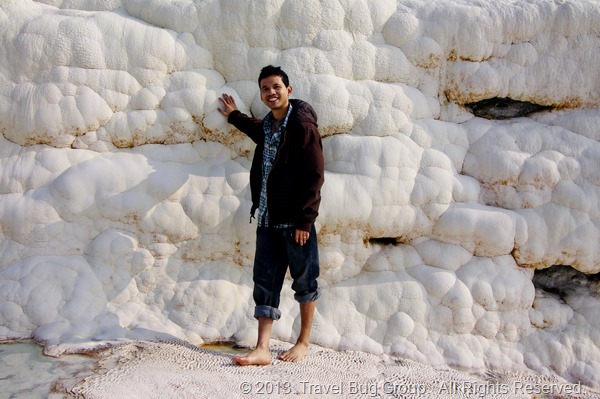 Hieropolis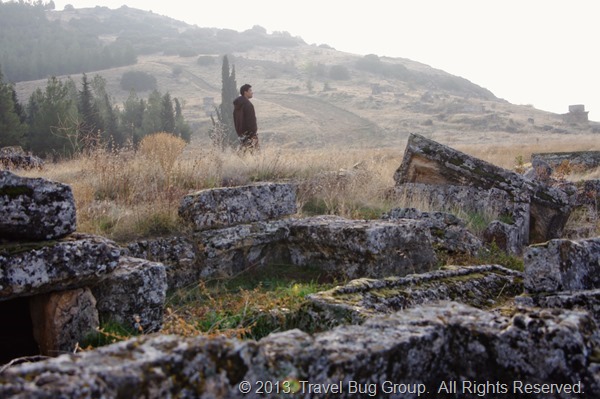 Hieropolis is an ancient Roman city next to Pamukkale, known for its hot springs.  Many residents came here for hot spring therapy, and to die here.  There is a large amount of sarcophagi here, though none with any bodies left in them.  There's also a wonderful theater and well-preserved roads.  With the autumn mists drifting away in the distance, everything takes on a dreamy air, as if we were seeing the past through the veil of time.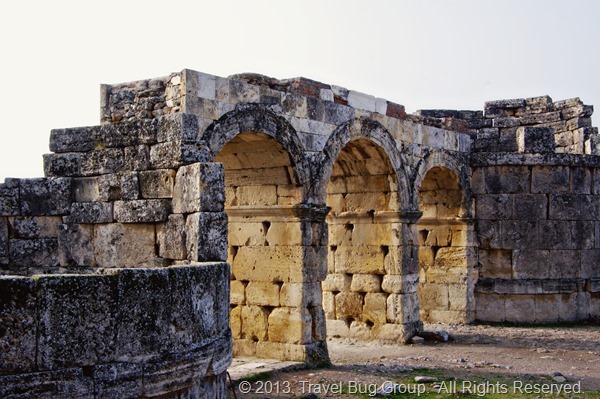 Hieropolis also has a large area of communal toilets.  Oktay showed us a picture of a bunch of men sitting around in the toilets, chatting, doing business while "doing their business".  No toilet paper existed at that time.  Instead, they brought their own sponge on a stick to clean themselves.  I could just imagine some poor guy forgetting his sponge-on-a-stick at home and some other guy going, "Hey!  Want to to borrow mine?" I'm glad for the advances in technology, even something as simple as toilet paper.  But it's interesting to see evidence of Roman innovations. 
The House of the Virgin Mary in Ephesus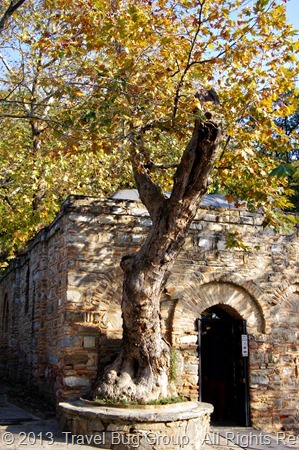 Mary, the mother of Jesus, supposedly arrived in Ephesus at the behest of John, who'd settled there.  John built her a nice house and she lived there until her death.  The house was lost in time, until one night, a nun dreamed of the location.  On waking, she wrote it down, eventually publishing it in a book.  Inspired by the book, an archaeological dig took place, locating the remains of a house on top of a hill.  The house, now rebuilt, now draws pilgrims from all over, including two popes who endorse the place as the true home of Mary.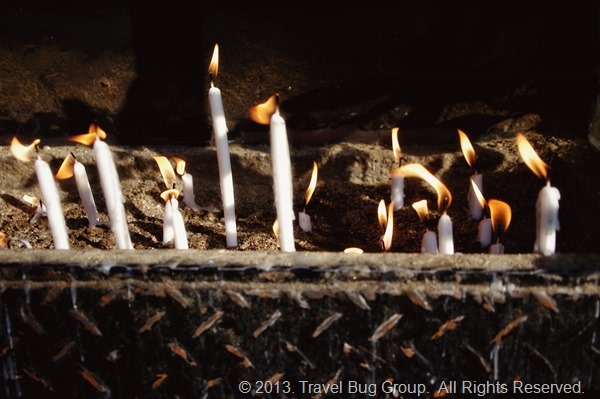 The house is small, only two rooms.  A hush settles on everyone who enters, voices dropping to whispers.  We sit on some wooden chairs, soaking up the atmosphere, praying for a myriad of things, then leave with a couple candles.  Outside, skinny white candles buried in sand-filled boxes flicker in the breeze.  We light our candles with the existing flames and place them inside also.  Beneath the house, beside a walkway leading away, a series of taps connected to a fresh spring sticking out from a stone wall.  Holy water, and we drink to slake our thirst, feeling the cool liquid slide down our throat. Further down the stone wall, there's a large area covered in white papers, each a single wish placed there by a petitioner.  We hadn't any wishes so kept walking.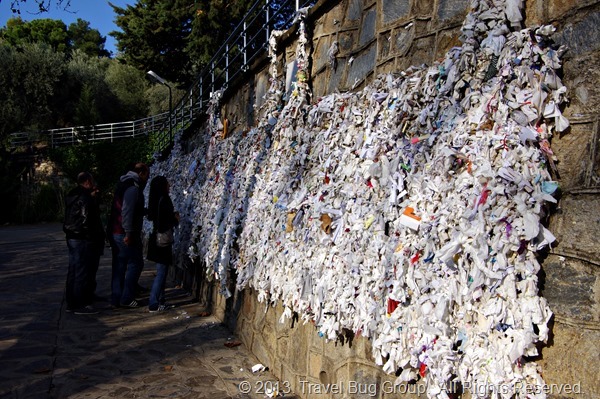 Ephesus
"To the angel[a] of the church in Ephesus write:
These are the words of him who holds the seven stars in his right hand and walks among the seven golden lampstands. 2 I know your deeds, your hard work and your perseverance. I know that you cannot tolerate wicked people, that you have tested those who claim to be apostles but are not, and have found them false. 3 You have persevered and have endured hardships for my name, and have not grown weary.
4 Yet I hold this against you: You have forsaken the love you had at first. 5 Consider how far you have fallen! Repent and do the things you did at first. If you do not repent, I will come to you and remove your lampstand from its place. 6 But you have this in your favor: You hate the practices of the Nicolaitans, which I also hate.
7 Whoever has ears, let them hear what the Spirit says to the churches. To the one who is victorious, I will give the right to eat from the tree of life, which is in the paradise of God.
~Revelation 2:1-7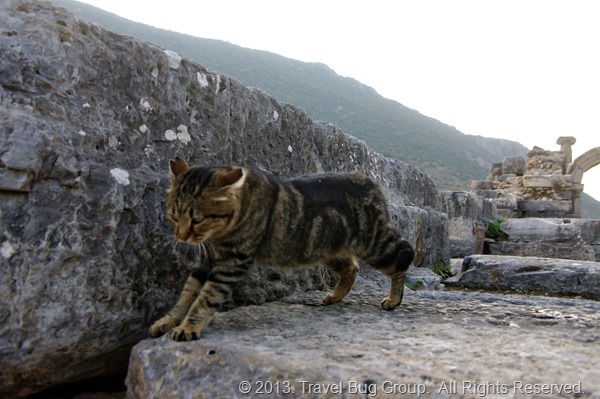 The city of Ephesus is incredibly well-preserved and quite extensive. A large population of cats jump from artifact to artifact. Two main roads intersect with a brothel on one side and the famous Ephesus library on the other, looking like something straight out of an Indiana Jones film.  Legend has it that men would tell their wives they were going to the library and then take a secret tunnel from the library to the brothel.  It probably wouldn't have worked with me, since I would've insisted on going to the library also.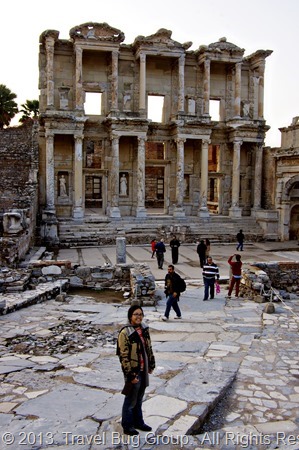 Nearby is a huge amphitheater, supposedly where Paul once preached.  While we stood on the steps, looking down towards the stage, a group of Chinese tourists burst into song.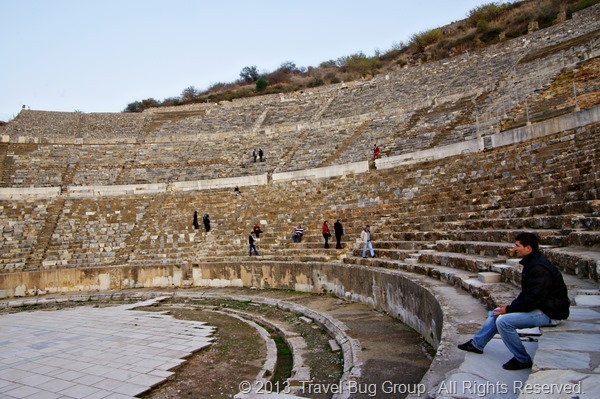 Temple of Athena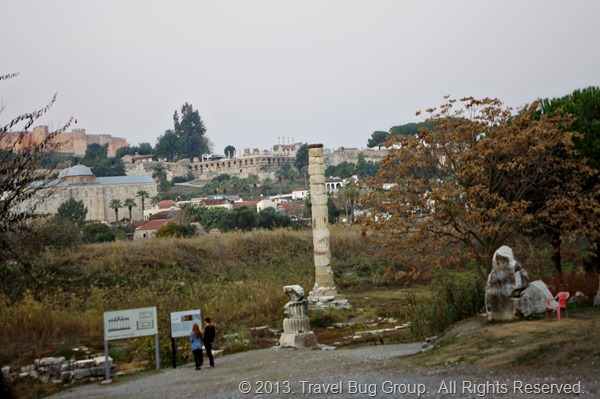 The sun was starting to set as we pulled away from the city of Ephesus.  Oktay turned to us and asked if we wanted to drive by the remains of the Temple of Athena, one of the ancient wonders of the world.  We made it to the gates just in time.  The guard was closing up but Oktay asked for five minutes and he opened the gates up for us.  From the car window, we could see a pillar rising in the distance.  A single pillar, all that remained of one of the most glorious Greek temples to ever exist.  We snapped some pictures and drove back out. 
Conclusion of Tour
In the evening, we said goodbye to Oktay and Omar as they dropped us off at our hotel.  After dinner, we wandered by the shore of the Mediterranean Sea, baklava clutched in Rick's hands, listening to the dark waves lap against each other and reflecting on our past few days.
Who knows if, someday, the city we wandered in will have disappeared also, buried beneath the earth for someone else to find?  I wonder if the people who lived in the ancient cities we visited ever thought there would be people so far in the future digging through their homes and marveling over their day-to-day lives.  I thought of all the human drama that must've happened over the centuries, the petty squabbles and epic loves, the joy and grief and millions of jokes that must've filled the air, now lost in time leaving only faint traces behind. 
P.S.  Happy birthday to me =)
---