Posted:
January 30th, 2014 |
Author:
ctbideas
|
Filed under:
ATW Updates
|
No Comments »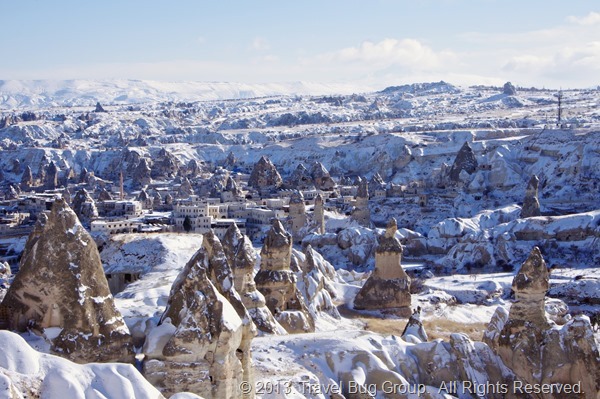 We had the chance to take in a day tour later on the same day we went on the hot air balloon ride. Due to the snow, our tour ended up being an amalgamation of the various tours the company offered.  The most interesting part was the Derinkuyu Underground City, the deepest one of many underground cities in this region.  The first levels were dug very early on, and as each new group of inhabitants came and went, they dug deeper and wider, so that there ended up being a total of 7 levels, connected by staircases and cisterns and air shafts.  At one point, during persecution, many Christians lived in these underground cities to escape the wrath of authorities.  Later on, the caves were used as rebel military outposts.  Inside, the air is cool, becoming cooler the further we descended.  The passages became tighter and the stairs narrower.  A couple women on our tour became too claustrophobic and opted to leave early and wait for us up top.  We pressed on to see the living areas and even a church carved into the ground.  I can't even imagine what it'd be like, living underground, but it's quite fascinating nevertheless.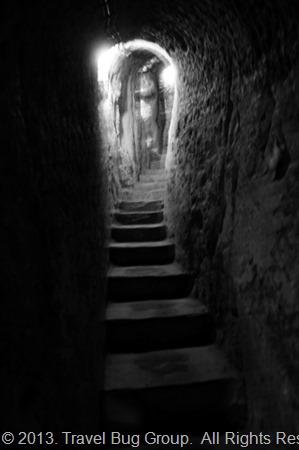 The rest of our tour consisted of various panoramic spots overlooking the beautiful Cappadocia region with a few cultural stops in-between.  A family from South Africa were big wine enthusiasts, so our tour guide made a small detour for an impromptu wine tasting since Cappadocia is known for their wine.  My palate is rather unsophisticated (ooh! This tastes like red wine!  And this tastes like white wine!), so Rick and I just enjoyed our sips and the ambience.  We also made a stop at a ceramics factory where we saw the process of making the famous Turkish ceramics.  I even had a chance to throw a pot on a wheel which was very fun.  I'd taken a year of ceramics in high school but was always more interested in hand-sculpting, so I opted out of learning the pottery wheel when I'd had the chance and now I finally got the chance to try.  It's really hard, especially since it's foot-powered (not electric).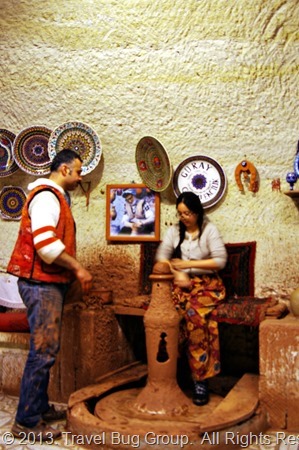 Note my gorgeous pants!
Lunch was in a lovely older woman's home.  She served us delicious soup, chicken, rice wrapped in grape leaves, and sweet pudding for dessert.  The conversation flowed.  I think when people travel, we naturally open ourselves up to strangers, especially those we recognize as fellow travelers.  We learned new things about Malta and South Africa and Argentina which we would've never sought out on our own.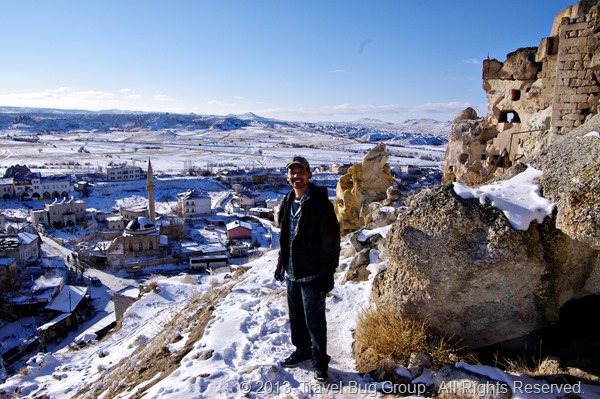 At the end of our tour, we stopped in an area known for the fairy chimneys.  Our group marveled at the strange otherworldly formations and had a fun session picking out shapes we saw in the stone, like childhood sessions of seeking shapes in clouds. 
The next day, someone from our hotel drove us the 1km to the Goreme Open-Air Museum.  It's a lovely collection of ancient monasteries and churches cut into the rock, some with gorgeous frescoes painted on the stone.  Aside from the wall decorations, though, the caves are monastic and sparse and the stairs steep.  It's certainly a place where one can escape all worldly pleasures to reflect on a stark landscape.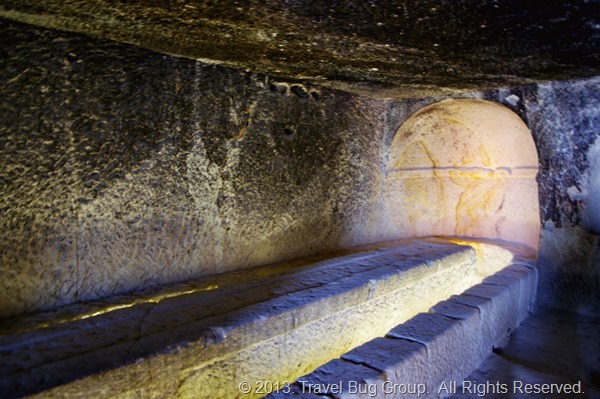 A long communal table where the monks would gather together.
I found that to be true of the entire Cappadocia region.  It seems to be a place of escape, of sanctuary, throughout its history.  It's a beautiful but barren region, which lies in stark contrast with the friendly people we met there.  Perhaps it's different in the summer, but we found Goreme to be a lovely place to get away from it all.
---