Posted:
January 15th, 2014 |
Author:
ctbideas
|
Filed under:
Thoughts
|
2 Comments »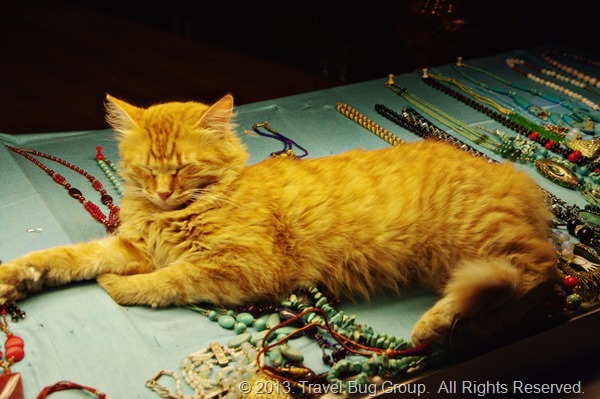 A big orange cat, because I used to love a big orange cat who adored me back (even if he'd rather spit up hairballs than admit it) and who I knew was always waiting for me at home no matter how bad high school could become. 
I feel like I'm taking longer and longer to post these monthly observations.  Before I know it, I'll be posting 2 months worth at a time. 
So, while sitting on a beach in Tel Aviv, listening to the waves of the Mediterranean Sea wash against the rocks, Rick asked me what I missed from back home.  I told him In-N-Out double cheeseburgers and taco trucks.  All kidding aside (wait, who says I'm kidding?), I do miss the concept of home. Maybe it's because I'm a girl with some strain of latent evolutionary nesting instinct that's rearing its head a la Alien, but I do miss having a place to call HOME. 
Rick and I aren't the picky sort.  Give us a clean bed, a working toilet on the same floor as us, wi-fi internet, plus a lock on the door, and we're good to go.  We've stayed in fancy 4-star hotels, apartments, teeny-tiny rooms just big enough for a bed, and a cave.  Yet, every time we arrive at a new lodging, I can't help but think how temporary our stay is.  A week.  Two.  Never more than a month.  New neighborhoods to figure out.  New customs to understand. 
I miss that sensation of permanency, the innate understanding that a place is ours and ours alone.  I miss knowing the neighborhood.  I miss familiarity.  And when we're done with travelling, I wish we had a home to go back to.  Oh, of course we won't be homeless.  I know that our long-suffering families will always have a place for us until we find another place of our own.  But, it's not quite the same feeling.  I'm not sure if I'm saying this right, if I'm conveying my emotions with the right words.
This may seem like a departure from an earlier post about how many times I've moved in the last 10 years, and how home is wherever Rick (+ internet) is.  All this is still true, in a way. I love travelling.  I love seeing the world with Rick by my side.  I think I could travel for a very long time, given the chance.   But, now, I'm definitely seeing the merits of having a home base, where I can go and reset myself and then fly out again.
I had a lot of other interesting things I've learned over the last month or so, but these thoughts have really taken over my brain lately.  So, my friends, for your reading pleasure.  Perhaps next month, I'll be a bit less maudlin. 
---