Posted:
March 7th, 2014 |
Author:
ctbideas
|
Filed under:
ATW Updates
,
Thoughts
|
No Comments »
Days before we were taking a bus to Tel Aviv, we received a notice from the US embassy (courtesy of signing up for STEP so that our gov't knew we were in Israel in case something happened), that a bomb had exploded on an Israeli bus in the outskirts of Tel Aviv.  Thankfully, someone had spotted the suspicious package and alerted everyone to get off in time, so no one was hurt.  However, the US embassy was urging caution, and we took their advice on hand.  While I admit we were nervous on the whole bus ride, with our eyes peeled for any suspicious packages and/or people, we ended up having a very smooth, very quick ride. 
Our first impressions of Tel Aviv is that it's very different from Jerusalem, even the Old City part of it.  It's quite a modern city, with a laid-back open-minded attitude towards life.  In fact, we met a man who enthusiastically told us about all the best spots in the city, and he describes Israel's three biggest cities in this way: "Haifa works, Jerusalem prays, and Tel Aviv parties."  While we're not big party people, we definitely enjoyed the laissez-faire atmosphere.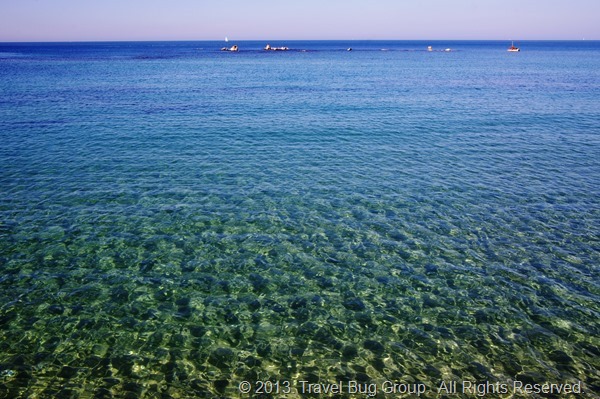 The gorgeous Mediterranean Sea.
The first thing we did was lounge around on the beach.  The beach this beautiful ombre color, shifting from pale turquoise to dark blue.  Gorgeous.  We spend many hours listening to the sounds of the waves and talking.  As you'll have noticed, Rick and I like talking with each other a lot.  The tension unknotted from my shoulders and we lazed around doing very little. 
Free activities
We did do a "free" Sandeman's tour, which is quite a bit shorter than Jerusalem's for obvious reasons.  We also took the bus (ask your hotel concierge for which bus is best to take) to Tel Aviv University, which not only has a great sculpture garden but an art museum right beside it.  All it takes is a valid ID to get through the gates.  We'd actually forgotten our passport, and the guard accepted our driver's licenses instead.  You do have to pay for the art museum, but we wandered around the first floor to see some of the exhibits without having to pay plus an artsy gift shop is always fun to peruse.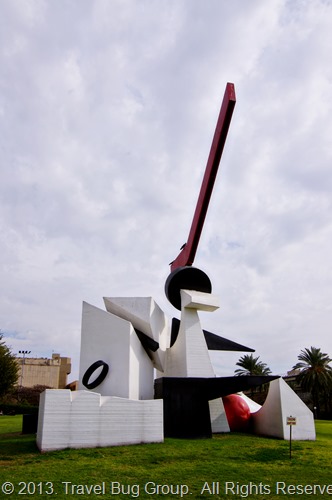 One of the sculptures at Tel Aviv University
Tel Aviv is known for their Bauhaus-style architecture, and there's a great Bauhaus Center which has a really fun gift shop & photo exhibit upstairs.  They also have a Bauhaus walking tour which costs money, but ask them if they have any free walking tours.  We didn't go on it ourselves, but we heard from someone that they may do a free tour once a week.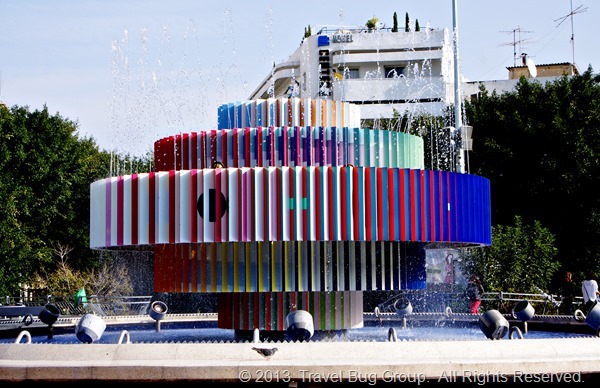 Fire and Water fountain.
Check out Dizengoff Square.  The streets leading off it have some great shopping.  We actually spent quite a while staring at fish in a small aquarium of a local pet store for a good 15 minutes (we're easily amused) and played fetch with a local Border Collie.  There's a very colorful fountain at the center of the square (you can't miss it) called the Fire and Water fountain.  At certain times of the day (the times are posted on the nearby pillars), they'll perform a show that actually involves fire shooting out from the center of the fountain.  Super fun to watch!  We also decided to splurge on a dinner-and-movie date night since the movies were actually in English with Hebrew subtitles.  After much decision-making, we settled on the Hobbit 2.  Which was a really fun movie to watch (though not as fun as the first one).  Unfortunately, we also forgot that English isn't the only language spoken in Middle Earth.  So, whenever the elves or orcs were pontificating in their own language, we were lost since we couldn't read the Hebrew subtitles.  We're hoping we didn't miss anything too important in the story.  If you're into antiques and/or vintage clothing, there's a great market that convenes right beside the fountain on Tuesdays (11:00-22:00) and Fridays (07:00-16:00).  I got myself some old stamps at a decent price.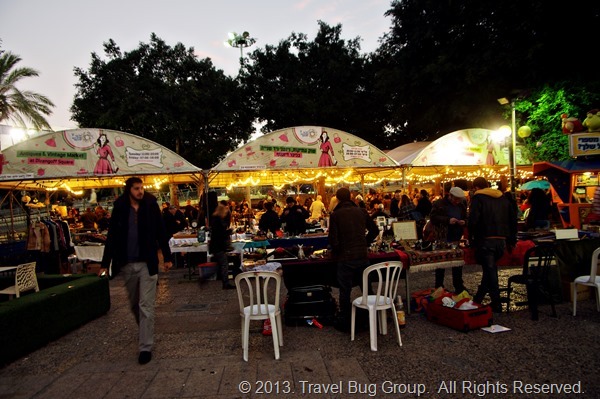 The antique fair, bustling and all lit up.
Friendly (both humans & cats)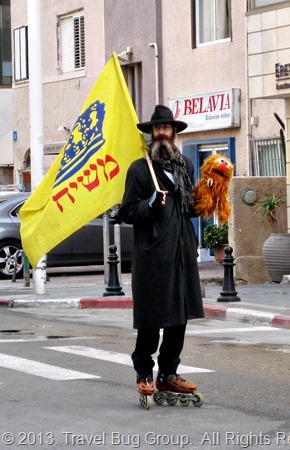 Some random guy we saw crossing the street.
Like I said before, we met a man who told us all the secrets to the city (well, not all…).  We were actually waiting for the Hobbit to begin and were sitting on a bench chatting, when a cat jumps up beside us.  I spend some time petting the stray cat, who slowly maneuvers himself onto my lap in the sneak subtle ninja ways of the cat.  When I remark to Rick about how friendly the cats were, a voice pops up beside us from a broad-shouldered young man, saying "Oh, all the cats in Tel Aviv are like that.  We don't bother having pet cats, since all the cats in the city are our pets".  At first, I stiffened, readying myself for some outright soliciting, but the enthusiastic young man won us over.  After over an hour of relating tip after tip, he ended with, "if you have any questions, don't hesitate to ask anyone in the city.  We're all friendly and will probably talk your ear off."  With a wave of the hand, he was off into the night to some unknown errand.  He left a really great impression on us, somehow subduing our growing cynicism for a bit.  What a good representative of Tel Aviv. 
---