Posted:
April 27th, 2014 |
Author:
ctbideas
|
Filed under:
ATW Updates
|
No Comments »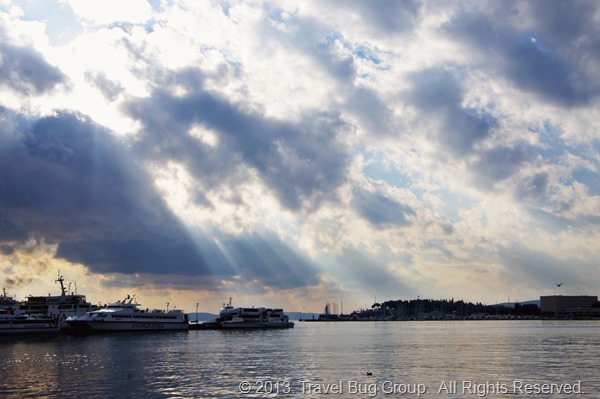 To be truthful, Split was an afterthought to its more famous counterpart of Dubrovnik.  The name had popped up over and over again in my research of Croatia, and so we decided that we should check it out.  Our host in Dubrovnik, Luka, said that it would be an easy walk to the bus station, so we decided to go that route.  What he failed to mention was that it was entirely uphill and at one point, the sidewalk completely disappears.  We finally made it to the main bus station and boarded the next bus to Split.  We passed briefly through Bosnia where officials boarded the bus to check everyone's identification.  They took our passports with them, and when returned, they bore new passport stamps.  We arrived late at night, and our new host waxed enthusiastic when he came to pick us up, pointing out a grocery store there, the best pizza restaurant there, and the 24-hour bakery. 
While it was similar to Dubrovnik in that most of the tourism industry was shut down for the winter, the Old Town of Split is quite close to the other parts of the city, and so it had a much more bustling atmosphere.  There's a farmer's market every morning right beside the old city walls.  And people go about their usual lives in a matter-of-a-fact manner.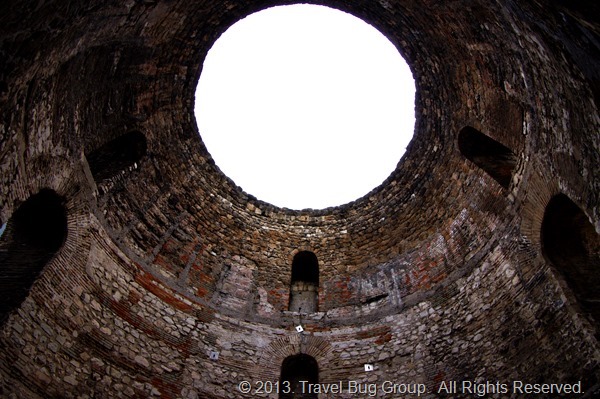 Split is mainly notable for being the seat of the Roman Empire under Emperor Diocletian, who innovated the tetrarchy way of ruling.  So his castle dominates the Old Town, its walls encompassing the huge villas that the castle was turned into as time marched on.  In fact, you can grab a map at the information office that lets you take a self-guided tour throughout the palace grounds and peruse the information boards set up at various important point of interest. 
For those guests staying more than 3 days, the Split Card is actually free as long as you can prove your length of stay.  We definitely took advantage of that.  It includes free admission to The City Museum, the Ethnographic Museum, the Natural History Museum, the Cathedral Treasury, and a couple art galleries (plus discounts on many other attractions).  We enjoyed all the museums.  They were a bit more expansive than their counterparts in Dubrovnik and an interesting peek into Croatian culture, which is a mix of their neighboring countries' cultures with their own flair. 
The ticket-checkers at the Juno Temple lit up when we said that we were from Los Angeles.  "Kobe Bryant," one of them said, and the other one nodded in concert.  They gestured towards another man, introducing us to him as "Los Angeles".  This man, his young daughter clinging to his hand, had been an swimmer at the Los Angeles Olympics in 1984. He hadn't placed, no medals to show, but he spoke about his experience as if it'd happened yesterday.  I was reminded that for each athlete there, no matter if they won a medal or not, the Olympics are special to them, an experience that they can hold inside themselves and sometimes, take out and examine as a prized possession.  Experiences, no matter how ephemeral, are powerful talismans, because they are what we are defined by, in a way. 
While I examined a sphinx a bit later, an older man named Ante stopped us.  He volunteered information about our surroundings, the ancient buildings we stood in the midst of.  He said he was writing a book of Croatian history, and he expounded at length.  When he found out we were from Los Angeles, he shook his head, "Bah!  America!", but he forgave us in light of Rick's engineering profession.  "Do you know who was from Croatia?" he asked us.  "Tesla!"  And he was off again, so passionate, his hands gesturing and flinging wide with excitement.  When he wound down, he waved to us, and disappeared up the nearby stairs, back to his normal routine.  Passing lives who have entangled briefly in the fabric of life, no less affecting for its short duration.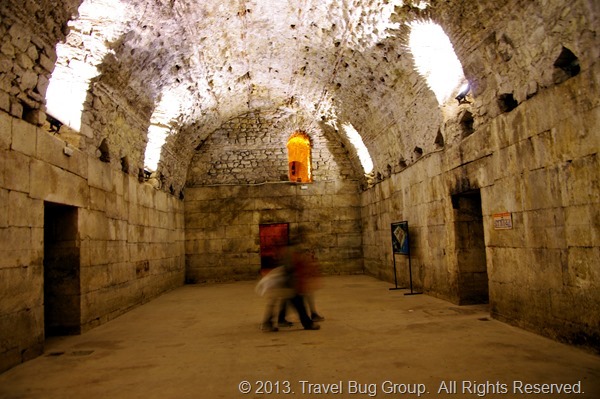 One of the "underground" areas beneath Diocletian's Palace.
We also lucked out that our visit coincided with their annual Museum Night, in which every museum in Split (and, I believe, throughout all of Croatia) offered free admission along with special programming.  We left our apartment at 7pm and made it through the Museum of Natural History (again!) with their huge collection of shells, Diocletian's Palace or actually beneath it, the Gallery of Fine Arts with a fantastic overview of art dating back from the 14th century with a good emphasis on Croatian artists, a small photography gallery, and a fantastic art gallery with beautiful luminous room installations. 
Mostly, however, we sat on the benches lining the port, and enjoyed the beautiful views of ocean. 
In the end, I believe that Split is just as amazing as Dubrovnik, especially for history buffs.  It has its own down-home brand of charm.  I'd really like to visit Croatia again during the proper tourist season so we can experience their national treasures, Plitvice Lakes and the smaller islands dotting the coast.  What a beautiful country. 
---