Posted:
May 24th, 2014 |
Author:
ctbideas
|
Filed under:
Uncategorized
|
No Comments »
Of course a plane is the easiest way to get from one city to another, these days.  However, we wanted to experience something new and a ferry certainly fit the bill.  Regular ferries depart from Split, heading to Ancona, Italy.  We booked through Jadrolinija online, which included a small private room for the night.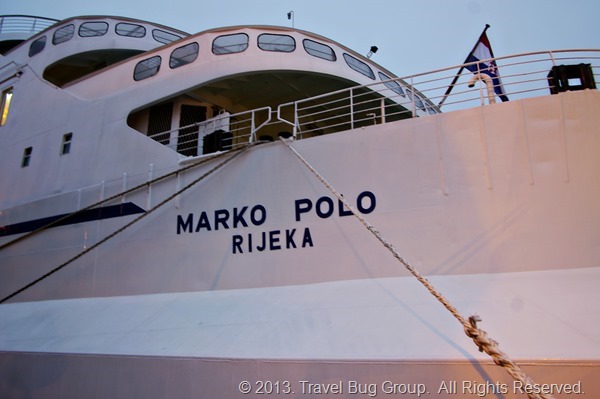 The day we were set to depart was a Sunday, and apparently everything is closed that day.  The landlord was kind enough to let us relax in the apartment long past check-out, and then around 5pm, we dragged our luggage to the dock where the ferry floated.  We passed through the main facility, showed them our ticket confirmation and received boarding passes in return.  Customs consisted of two narrow glass booths set to each side of the back exit.  A cursory check and we were free to board. 
We made our way to the open maw of the ferry.  After a few minutes of helpless wandering among the cars being loaded, one of the workers took pity on us and directed us to the right door that led to the reception area.  We received meal vouchers and a plastic punchcard as our key that looked like a more durable version of early computer programming punchcards.  Since we paid for the least-expensive private room, we descended into the bowels of the ship, metal doors lining the hallway.  Our door opened up into one of the smallest private rooms we'd ever had the privilege of sharing.  Two narrow bunks connected by a metal ladder on one side, a small sink and shelf on the other, and a passageway just wide enough for one person running through the middle.  Neither of us could move past each other at the same time and there was a great deal of head-bumping as we settled ourselves in.  On cue, the rumbling grew in power, and we felt the boat begin rocking as we settled into open water.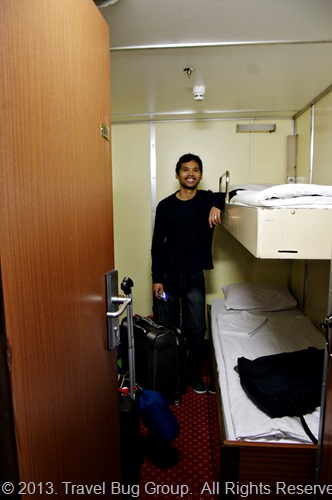 I tried to do some freehand writing (no internet), but soon became overcome with nausea, so instead I turned in early, setting the alarm for our early 6am breakfast.  However, when I awoke, the nausea came back full force, which was surprising since I'd never had a problem with seasickness before.  Perhaps it was the lack of windows, or sleep deprivation, or any number of other factors, but my greatest disappointment was the fact that I was unable to enjoy our free breakfast buffet.  Rick downed his full plate with gusto while I barely managed a few pieces of ham and cheese before I laid my head on the table in misery.  Good thing we soon arrived in port.  As soon as I stepped back onto dry land, my nausea whisked itself away.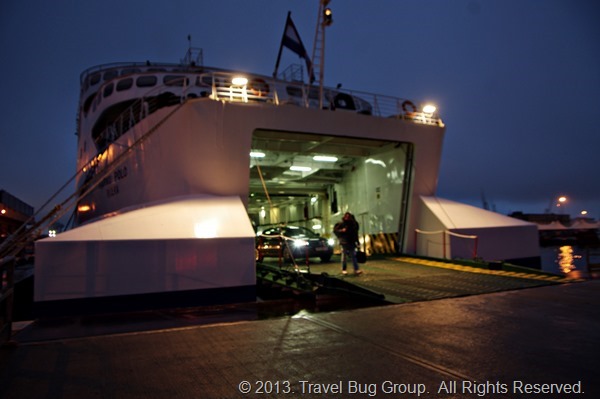 Customs, again, was a quick straightforward affair and soon we stood in a random parking lot in early-morning Ancona with a light misty drizzle falling down on us.  I knew we had to take a bus to the train station but had absolutely no idea where that bus station was.  A couple of nice people in reflective vests directed us in the general direction, and somehow, we muddled our way onto the correct bus.  I walked over to the bus driver when we boarded, money in hand, but he paid no attention to me, and was, in fact, completely blocked off from me in a plexiglass enclosure.  How were we to pay for bus tickets then?  There was only one other passenger on the bus, a pretty girl with long dark hair, and I staggered my way on the moving bus in her direction.  "How do you pay for the bus tickets?" I asked.  She shook her head.  I mimed a rectangle, held up some money, and pointed at the bus driver.  She shook her head again.  I looked at Rick.  He shrugged, so I sat beside him until we reached the train station.  "I think the bus driver was nice enough to let us get on without paying," he said later.  I still have no idea how much that bus ride was supposed to be or how I was supposed to pay for a bus ticket. 
We went over to the train information office and bought a ticket from Ancona to Rome.  After a couple hours of waiting, our train pulled up and we boarded.  "How long is this ride supposed to be?" Rick asked.  My answer was "An hour, I think?  Two?"  It turned out to be a 4 hour trip.  Which isn't too terrible really.  We'd been on 11 hour bus rides before.  But when you're expecting 2 hours and it turns into 4, every minute after that second hour is excruciating.  During the course of the ride, we passed through a series of pitch-black mountain tunnels and for each one, this incredible pressure would descend upon our eardrums.  For one particularly long one, I pressed my hands to my ears and looked over at the others on the train, their motions mirroring mine.  Somehow that made me feel better, that it wasn't just a tourist thing.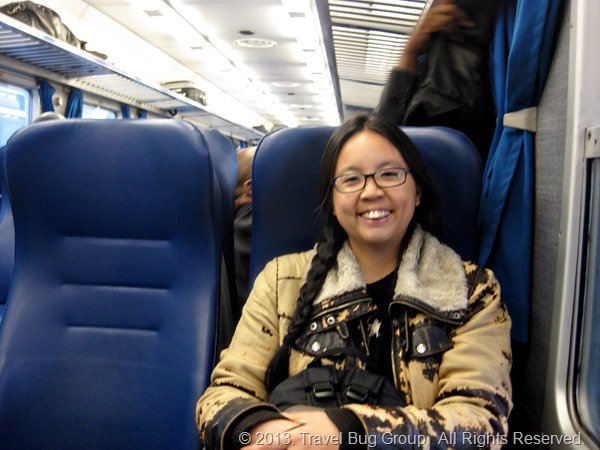 But, as excruciatingly long the ride felt, before long we were pulling into Rome's Termini station, the last stop.  Rick turned to me and, fittingly, said, "Roma Victor."
---