Posted:
September 16th, 2014 |
Author:
ctbideas
|
Filed under:
ATW Updates
|
No Comments »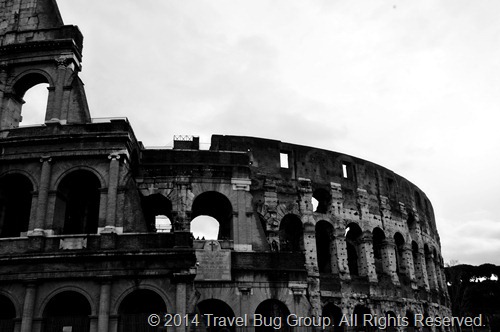 The Colosseum of Rome, also called the Flavian Amphitheater for the dynasty of emperors that oversaw its build, is one of the must-see spots of this ancient city. Construction began in 70 AD under the Emperor Vespasian. It's an iconic symbol of Ancient Rome, proclaiming its might & power. In fact, there's a map painted inside of the entire Roman empire, with key cities highlighted (you may recognize a few of them from our previous posts).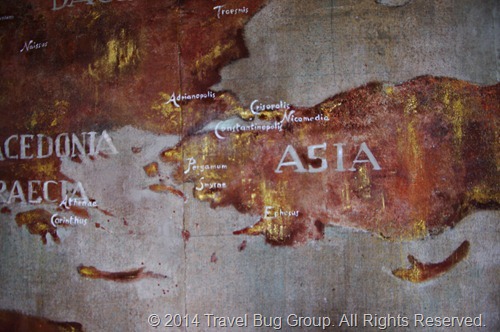 We visited here with a tour group through the fantastic company, Dark Rome Tours. In fact, we did four tours with them total and they really were worth every penny we paid. I have a hunch that a good portion of our love for Rome stems from the massive amounts of information we absorbed through our guides. If you prefer "free" (tip-based) walking tours, we also really liked New Rome Free Tour and the Florence Free Tour (we did both the general tour & the Medici one). We lucked out in Verona and had our wonderful friends show us around their city. So, as you can see, we did a LOT of walking and loved every minute of it.
The Colosseum is full of the sounds of tourists now, speaking in a multitude of languages. But, long ago, it was full of the chatter of spectators watching fighting gladiators (both men and women), epic sea battles, animal fights, performances of plays that were already considered classics back then, and (of course) political/religious prisoners executed for entertainment.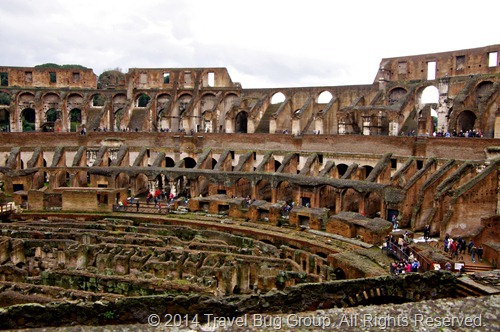 As you can see, the main structure has degraded over the years, though we can still get a great sense of where the seats were placed and how the underground area looked. Earthquakes, the bane of many a Roman city, have further destroyed large areas. Rick and I were nevertheless in awe of the immensity of this area. It is estimated it could hold between 50,000 and 80,000 spectators at a time. To put that into perspective, the new Levi's Stadium in Santa Clara, CA that opened this year seats 68,500.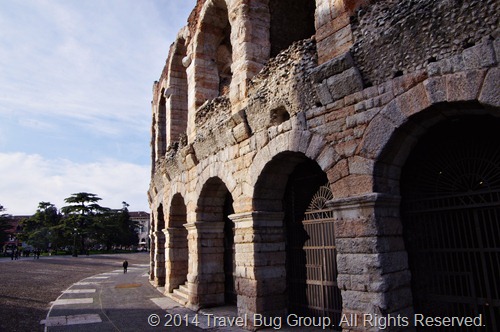 Looks similar, doesn't it? This is Verona's amphitheater, the Arena di Verona, built in 30 AD which is a bit smaller and older than the Roman Coliseum. Still, it's not the smallest structure, as you can see it dwarfing the man walking by it on the left. And it's much better maintained as it's still in use today for various performances (I would love to watch an opera here someday).  Comparing this amphitheater to the Colosseum, you can easily see the gradual development of building techniques and one-up-ship that existed between Roman cities.
In fact, while on our Scotland/Wales honeymoon, about 5 years back, we were able to explore the ruins (more like the skeletal outline) of another Roman amphitheater in the Welsh countryside. As you can see, these places, however bloody their past may be, were some of the centers of Roman culture. In understanding the meaning and the history of these amphitheaters, we can better understand the mindsets of the people who lived in Rome and under Roman rule in those days. And, in fact, perhaps we can better understand our own society, where we also gather together to watch grand spectacles and devastating real-life dramas.
---