Posted:
August 16th, 2013 |
Author:
ctbideas
|
Filed under:
Series: Summer California
,
Travel Tales
|
No Comments »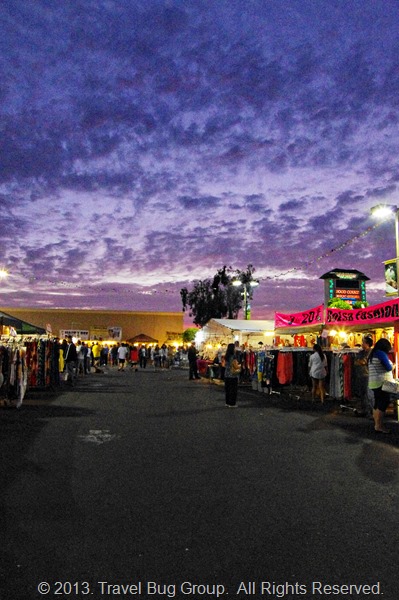 On a search for balut, a Filipino delicacy consisting of a fertilized duck egg, Rick stumbled across the Yelp page for Asian Garden Night Market in Westminster, CA.  That Friday night, we drove to Westminster, commonly known as Little Vietnam.  We knew we'd arrived when the scent of smoke drifted through our open car windows.  Strung lights shimmered in the dark, illuminating the three or so rows of stalls set up in the parking lot of a larger shopping center.  We parked on the street and wended our way through the crowd gathered around the stage, Vietnamese music drifting in the air. 
We'd come in search of dinner, so, aside from snapping a few photos, our feet headed straight to the food stalls along the perimeter.  So many choices.  Such limited space in our stomachs.  How could we choose?  Unable to resist the glorious combination of meat and grease, we settled on pork skewers as our amuse bouche.  The older men manning the grills barely spared us a look as they shoved two pork skewers in a folded-up paper plate.  A younger man took our money with a distracted smile.  The skewers were burnt black on both ends and oil spots dotted the paper plate.  The pork tasted like sweet marinated heaven, warm and savory against my tongue.  While our teeth finagled all last remaining morsels off the stick without impaling our throats with the pointed end of the stick, we browsed the other non-food stalls.  Many sold discount clothing and sparkly discounted jewelry.  A large toy stall at the end provided children with boxes of tiny paper-wrapped packets that, when thrown on the ground, made loud cracks of sound.  Throughout our whole time there, not once did the symphony of sharp sound-bursts stop, the ground littered with discarded white papers.  A stall full of elegant bonsai stood near another one demonstrating a lemon juice spritzer, the owner watching each passerby with speculative eyes. 
---